Injection Moulding Screw Barrel

Hi-tech has been engaged in producing an array of Injection Moulding Screw Barrels. Besides being most advanced based on performance, the screw barrels are known to be highly user-friendly.
Material: EN41B Musco procured from authorised distributor of Mahindra Sanyo Special Steel Pvt. Ltd.
Nitriding: Gas medium, Liquid medium, Plasma Medium
Bimetalllic Coating: ranging from 4% tungsten carbide powder coating to 88% tungesten carbide powder via HVOF robotic technology.

Made As Per Length/Diameter Ratio
The injection moulding screw barrel is constructed with premium materials coupled with futuristic technologies. The low melt temperature spares are made based on length/diameter ratio—15-46. As per clients requirements, we provide the screw barrel in different form of nitrides such as, gas or plasma nitrides.
Tons of Models
In order to suit specific industrial requirements, we offer screw barrels in tons of different inner and outer diameters along with tons of models and designs. Moreover, they are also designed depending on particular specifications.
Ideal for Many Plastic Machineries
The screw barrels are used in a number of injection moulding machineries as well as plastic machines. They are widely demanded in the industry and appreciated for high customer satisfaction.
HT Exacting Standard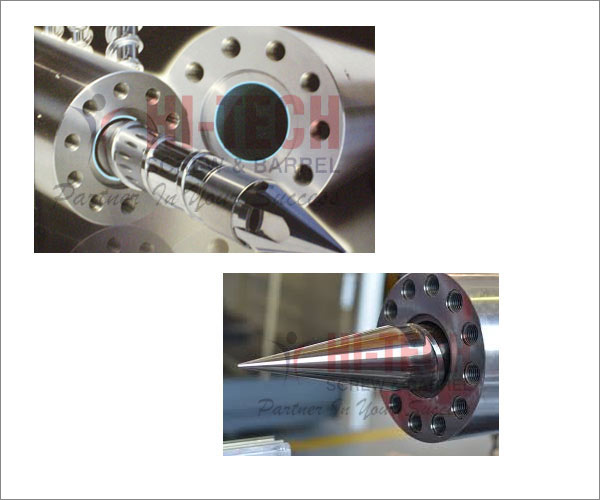 Description
Beyond our extensive capabilities, you can rely on HI-TECH to produce only the highest standards in quality. With our tighter tolerances and proper profiling, HI-TECH screws and barrels help your extrusion process to produce the ideal in compound performance. This results in a higher quality end product, increased longevity of the screw and barrel and a reduction in your production costs.
To assure this level of quality, HI-TECH has one of the most complete CAD/CAM design and CNC manufacturing systems in the industry. Along with our staff of specialized engineers and highly skilled machinists, HI-TECH offers the technology and expertise to create the optimum solution for your most challenging needs.
Hard Facing Process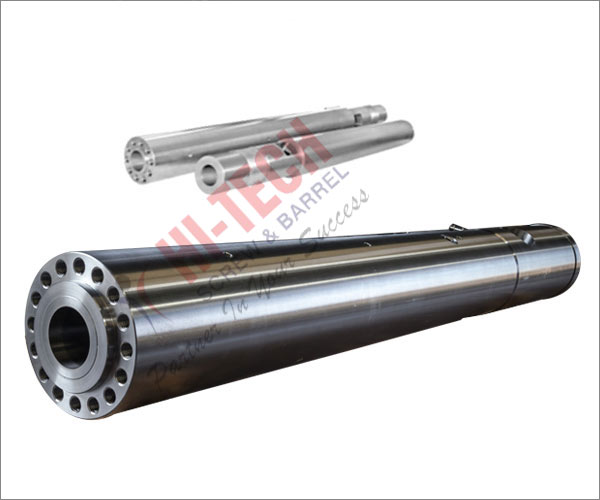 Description
The enemy of screw and barrel efficiency is wear. Screw wear is a result of the flow of plastic against the screw and barrel as well as metal contact between the flights and barrel. To hel resist wear, HI-TECH makes screws more wear resistant through hard facing. There are numerous hard facing materials and techniques available these days. All techniques can be grouped into the following major categories:
Welding of Hard Facing Alloys by MIG/PTA/TIG/OXY Processes
Thermal Spraying of Hard Facing Alloys
Surface Treatment of Base Materials
Plating of Surfaces
HI-TECH has the capability to apply hard facing with any of these techniques, and our engineers will work with you to determine which method is best for your needs.
A normal part of the hard facing process produces hairline cracks on the flights. All the good hard face alloys are compounded to give the lease amount of surface cracks, but these cracks cannot be 100% eliminated. And the harder the alloy, the more cracks one will find. However, a smooth, no crack surface means a poor wear surface from too much dilution of the base material with the hard surface alloy.
RING PLUNGER: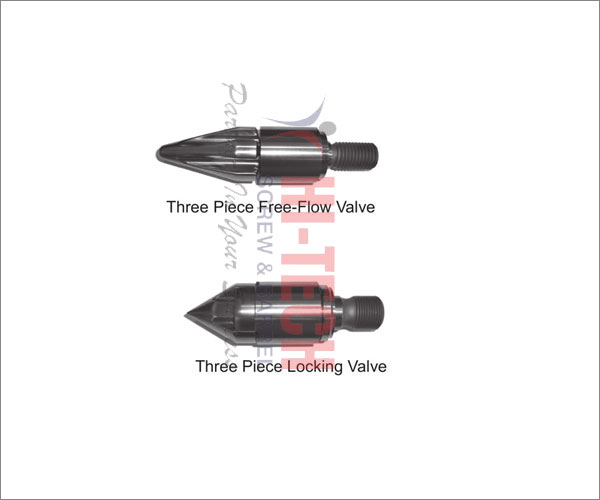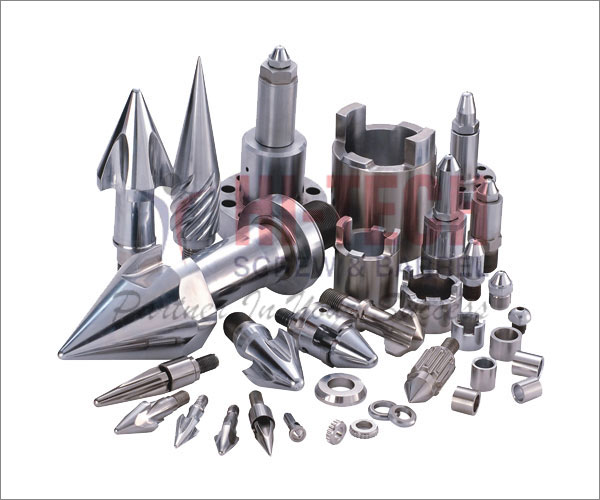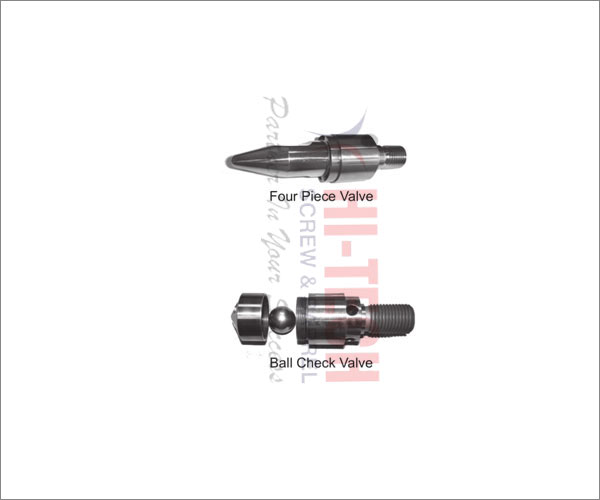 Description
In injection moulding , the function of a non-return valve is to stop the flow of melted resin back into he screw channels while the screw is moving forward during injection . Valves are manufactured from steels or alloys that are best suited to the processing environment in which they will be used various tool steels that are heat-treated and nitride , nickel alloys , chrome plating and special coatings are all options from which to choose .
valves may be of a special design . However , styles most commonly used are the three piece free-flow , three piece locking , four piece valve plus side or front discharge ball check types.
HT Services For Injection Moulding Screws & Barrel
HI-TECH offers a complete line of design, manufacturing and rebuilding services including
New Manufactured Screws
Rebuilding Screws With Hard Surfacing
Repairing Broken Screws
Change Compression Ration
Rebuilding Flight Widths
Honing Barrels To Next Uniform Size
New Barrels With Bimetallic Liners
Adding Mixing Sections
Rebuild/Replace Screw Tips