Extrusion Twin Screw Barrel

hi-tech extrusion manufactures Twin screw and barrel , we also offer twin screw pair which responds anticorrosion & wear resistant with high quality and high performance rate with coating. New designed screw ,which can be applied to process PVC pipes & profiles compounding are developed by us . We manufacture twin screw pairs and twin barrel of all the well-known extruder making companies.

Twin screw barrels are demandable in the market because of its functioning. We have supply so many screw barrel in India and across the globe. Our screw are manufactured using advanced technology and machine which provide various features such as strong ability, durability, exact fitting, easy to use and remove etc. our products are specially designed to meet customers specific need and requirements.
Material: EN41B Musco procured from authorised distributor of Mahindra Sanyo Special Steel Pvt. Ltd.
Nitriding: Gas medium, Liquid medium, Plasma Medium
Bimetalllic coating: ranging from 4% tungsten carbide powder coating to 88% tungesten carbide powder via HVOF robotic technology.
Conical Screw & Barrel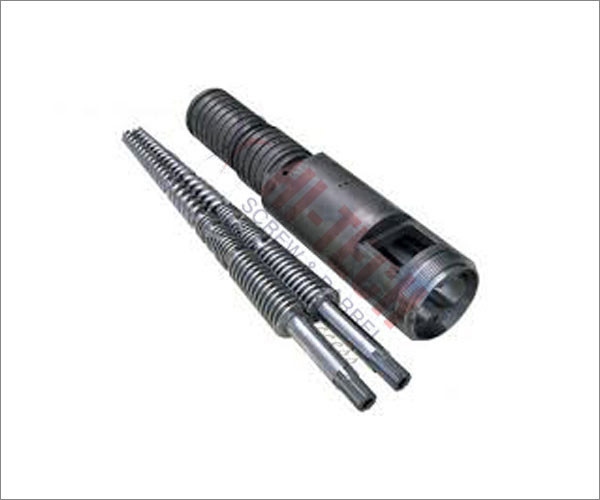 Description
HI-TECH SCREW BARREL manufactures twin screw and barrels starting from 35 mm to 110 mm screw diameter. We manufactures screws and barrels according to present market needs like high filler, low filler application and ISI grade. HI-TECH SCREW BARREL follow all standard manufacturing process and adhere all standard norms of manufacturing.
Application
PVC Pipe Manufacturer (CPVC)
PVC Profile Manufacturer (CPVC)
Parallel Screw & Barrel: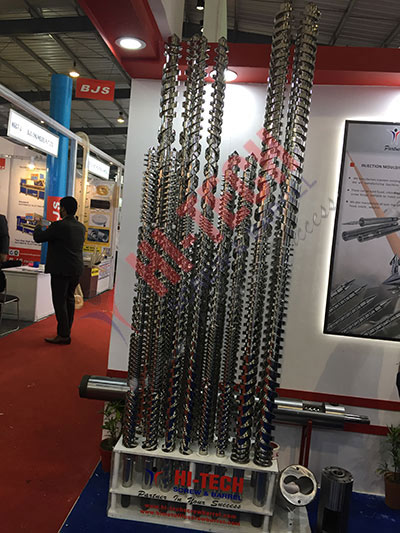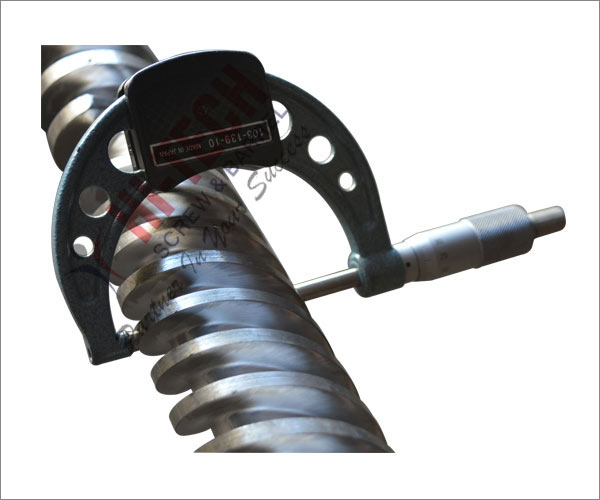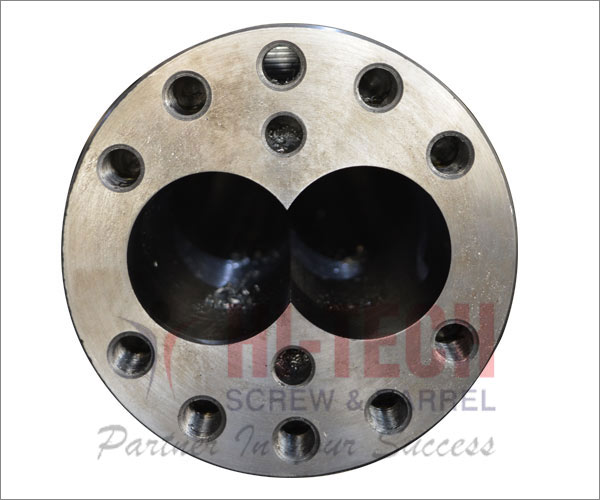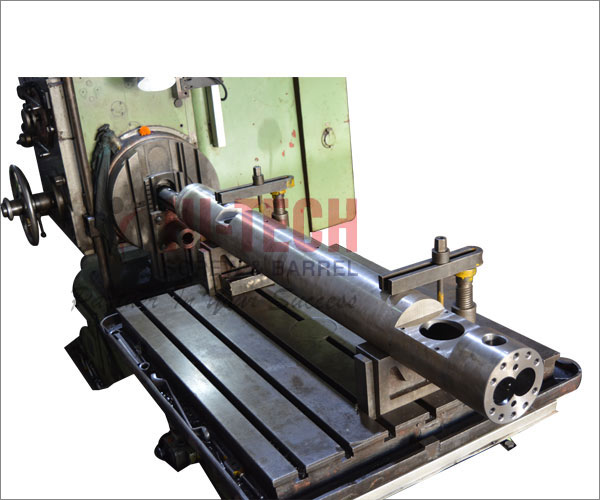 Description
These are mainly used in Pipe and compounding extrusion plants for higher outputs and better mixing. HI-TECH SCREW BARREL manufactures Twin screws and barrels require greater accuracies and we make sure it meets the standards. The axis, bore of the barrel, screw meshing all play an important role in the smooth functioning and ensure longer life of equipment and machine.
Application
PVC Pipe Manufacturer (RPVC, UPVC)
PVC Profile Manufacturer (RPVC, UPVC)
| | | | |
| --- | --- | --- | --- |
| MODEL | DIA OF SCREW | L/D RATIO | OUTPUT |
| HT 110 | 52 | 20:01 | 100-110 |
| HT 170 | 65 | 18:01 | 150-170 |
| HT 200 | 65 | 18:01 | 180-200 |
| HT 250 | 65 | 22:01 | 230-250 |
| HT 300 | 81 | 18:01 | 270-300 |
| HT 350 | 71 | 28:01:00 | 330-350 |
| HT 450 | 91 | 22:01 | 420-450 |
| HT 550 | 91 | 25:01:00 | 520-550 |
| HT 700 | 91 | 28:01:00 | 650-700 |
| HT 900 | 110 | 28:01:00 | 850-900 |
| HT 1500 | 135 | 28:01:00 | 1300-1500 |
| | | | |
| --- | --- | --- | --- |
| MODEL | DIA OF SCREW | L/D RATIO | OUTPUT |
| HT 52/18 V | 52 | 18:01 | 100-120 |
| HT 52/22 V | 52 | 22:01 | 130-150 |
| HT 52/25 V | 52 | 25:01:00 | 150-170 |
| HT 65/18 V | 65 | 18:01 | 170-200,200-250 |
| HT 65/22 V | 65 | 22:01 | 200-250 |
| HT 68/28 V | 68 | 28:01:00 | 300-350 |
| HT 90/22 V | 90 | 22:01 | 400-450 |
| HT 90/25 V | 90 | 25:01:00 | 500-550 |
| HT 92/28 V | 92 | 28:01:00 | 650-700 |
| HT 110/28 V | 110 | 28:01:00 | 850-950 |
| HT 135/28 V | 135 | 28:01:00 | 1300-1500 |
| HT 168/28 V | 168 | 28:01:00 | 1600-2000 |
Front Barrel & Hss sleeve: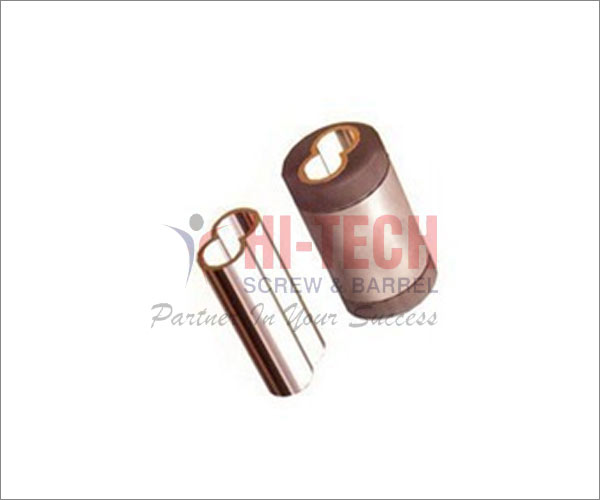 Features:
Easy to install
High strength
Rust proof
Easy maintenance
PVC Extrusion Plants